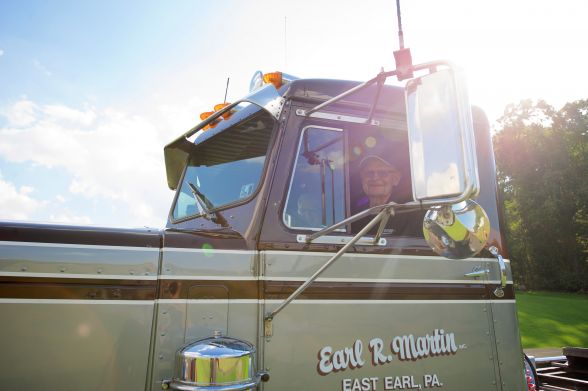 Celebrating 50 Years, from the CEO's Perspective…

As I reflect back over the fifty years that our Company has been operating, I recall the incident that gave me a strong desire to have my own company. I grew up on a dairy farm in Lancaster County. It was very enjoyable to work alongside my dad on the farm.
When I was fourteen, my dad was ordained as a minister in our church district, and he then began spending most of his time in his study, with the exception of morning and evening chores. Since I had extra time on my hands, I began thinking about raising broiler chickens.
We had what was called a brooder house on the farm, which my dad used to raise chicks to become layer hens. It hadn't been used for some years and was in need of repairs. I found boards around the farm and secretly began repairing this old brooder house.
When I had it fixed up to my satisfaction, I told my dad I had something to show him. He went with me and when I showed him what I had done, I asked him if he'd allow me to buy three hundred chicks to raise for broilers. When he saw how badly I wanted to do that, he took me to the bank and helped me open an account so I could get started.
My older sister would take me to the New Holland feed store in dad's Ford pickup. I would buy a load of feed and write my own check. When the chicks were six weeks old, I would move them out on the range and would order three hundred more chicks to replace them. This really gave me a desire to someday have my own business.
As a young adult, I had been driving truck for Martin Limestone for seven and a half years when a local farm became available for rent in the spring of 1962. Ruthie and I decided to rent it and we farmed until the spring of 1965 when the farm was sold. We weren't quite brave enough to buy it, so when the time came for us to move and we still had not found another farm that suited us, we decided to buy a truck.
My brother, Landis, and I each bought new 1965 Peterbilts and the Company was begun. I had no desire to see how large I could grow the company, but had a strong desire to take advantage of opportunities as they became available.
When more hauling became available than I could handle, I bought the second truck. Initially, I worried about how I was going to keep the second truck and a driver busy, and then I recalled the Scripture verse in Psalms where the Lord reminds us that "even the cattle on a thousand hills are mine." I realized that included trucks as well as cattle, and Ruthie and I dedicated our business to the Lord to do as He saw fit. We were going to do the best we knew to enjoy success and would leave the rest to Him.
As the business grew, I was humbled and gratified at the good people God provided as co-workers. Many of them stayed with us long-term, which was a tremendous blessing. I won't mention names beyond the family because I can't name them all.
As growth continued, my daughter Judy joined me as soon as she was out of high school. She was a great help with the bookkeeping, and also took care of policies, permits, and all kinds of things, which was invaluable to me. She helped to establish Martin's Trailside Express and provide leadership, and eventually became President of Trailside.

As time went on, Earl Jr began washing trucks and helping out around the shop, and later he began driving. He continued to develop his God-given talents and eventually I was able to pass the responsibilities of President of the Trucking Company on to him. He also was blessed with the ability to surround himself with a team of talented people who are doing a great job of running the Company God has entrusted to us.As I look back over the past fifty years, I first of all thank God for His faithfulness. Secondly, I thank my lovely wife Ruthie, for her support and encouragement through the many challenges. Thirdly, I can't find words to express my gratitude to the many talented and dedicated co-workers who have worked with us through the years.

I am truly humbled when I am made to realize how little credit is due to me for the blessings and success we've enjoyed the past fifty years, and how much I owe to God and others. As I look forward, I see many challenges, but the Company is in the hands of good people and I know God is faithful to fulfill His will.

Blessings to all of you...

~ Earl Sr.