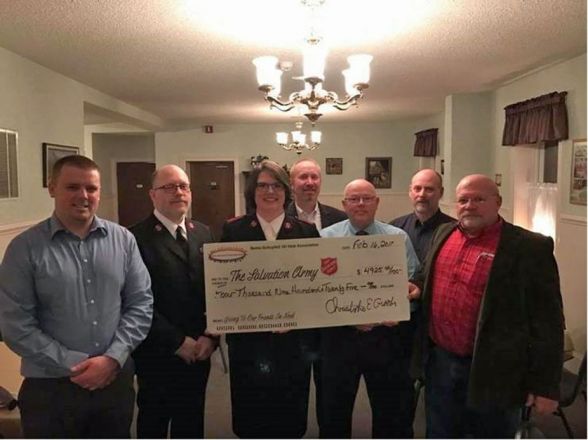 Virginville, PA – 2/16/17 – The Berks-Schuylkill Oil Heat Association (BSOHA) donated $4,925 to both the Berks and Schuylkill County Salvation Army on Thursday, February 16, 2017 with each Corps receiving half of the total donation. Since 2006, the BSOHA annual charitable donation has directly helped the heating needs of local residents to a total contribution of $55,465.
Ted and Sharon Tressler – Reading Corps of the Salvation Army were on hand to accept the presentation from BSOHA President Kevin Steele of H.B. Steele & Son, Inc., Orwigsburg and BSOHA Secretary/Treasurer, Chris Crooks of AMERIgreen Energy, Lancaster, PA.
"We were very pleased to make our annual donation to the Salvation Army. I am always inspired by the charity of our membership and their willingness to help those less fortunate," stated Kevin Steele President of BSOHA.
Donations for the annual fundraiser were received from the following member companies of BSOHA: AMERIgreen Energy, Angus Energy, R.W. Beckett Corporation, Boston Environmental, Buckeye Energy Services, Earl R. Martin Inc., Elite Fuel Services LLC, F.M. Brown's Sons, Inc., Gulf Oil L.P., H.B. Steele & Son Inc., Hafer Petroleum Equipt. Ltd., Jack Rich Inc., Santilli Oil Co. Inc., Richard B. Ryon Insurance and Clyde S. Walton, Inc.
As an organization comprised of independent heating oil distributors and dealers, and associated industries, The Berks-Schuylkill Oil Heat Association exists to promote and educate current and prospective heating oil customers as to the benefits of oil heat and to support local oil companies, providing a wide range of products and services to enhance their customers' satisfaction. To find a member dealer or to learn more about the Berks-Schuylkill Oil Heat Association log onto: www.bsoha.org.
The Salvation Army is an evangelical part of the universal Christian Church with its own distinctive governance and practice. Its doctrine follows the mainstream of Christian belief and its articles of faith emphasize God's saving purposes. To learn more about the Salvation Army log onto: www.salvationarmy.org .