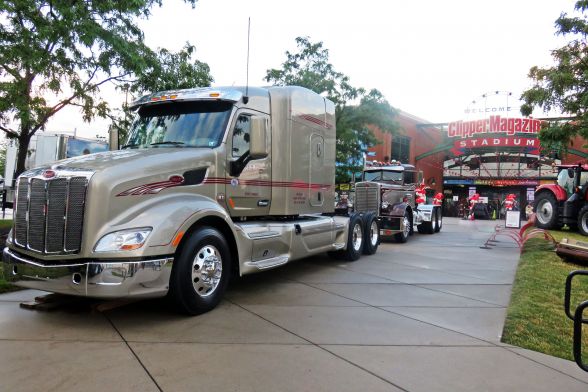 July 13, 2016: Despite less than perfect weather, the rain couldn't put a damper on what was otherwise a fantastic night at this year's 2016 All-Star Game! Game time was delayed by approximately 85 minutes due to heavy rains, but once the action began, it was a night full of fun and excitement!
Adding to the festivities and mid-game fireworks, Earl R Martin, Inc. was well represented at Clipper Magazine Stadium with two trucks and a full-page ad & featured article in the Summer Farm Show program. On display out front – and book-ending our 50 year history – was Truck #1 (aka "Old Clyde") along with our newest Peterbilt, Truck 81.
Overall, the turnout was outstanding (in fact, it was the second highest attendance in Barnstormer history - - 8,466 fans!) and we were extremely happy to be a part of this amazing night!
Final Score: A home run and outfield assist by the Barnstormers' Caleb Gindl led the Freedom Division to a 3-1 victory over the Liberty Division. The Atlantic League will resume play in the second half of the season on Friday, July 15.