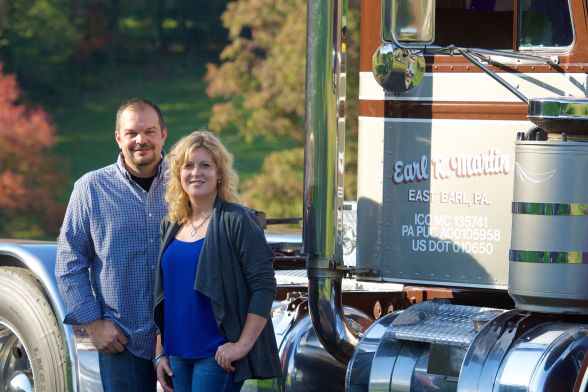 Celebrating 50 Years, from the President's Perspective…
It's hard to believe that it's 2015 and the 50th Anniversary of ERM, Inc. When I was recently asked to share some thoughts about the company over my lifetime it brought a flood of memories to mind. The majority of the memories are very positive and good, but I was reminded of some painful ones as well.
While we are still a small company, I'm often amazed at how the company has grown and developed over the years. From the time Dad bought his first truck, his goal was to make an honest living and provide good customer service. He never had dreams of seeing how big the business could get or how many trucks he could add to the fleet. I remember many times as a little guy growing up, and being fascinated with trucks, asking Dad, "When are you going to get another one?" His reply was usually "Well, we'll have to see what our customers' needs are and plan from there." While there are many business philosophies in the world today, I think Dad had two very key principles right! 1) Operate with honesty and Integrity; and 2) Pay close attention to customers' needs.
I remember many times growing up seeing the many long hours Dad would work and the many different things he would do ranging from office work, driving, mechanical work, buying and selling grain in the early years, and the list goes on….. I realized that the true reason he worked so hard was simply that he enjoyed what he did, felt called to keep the business growing, and wanted to do right by his employees and customers. He would often tell us kids that sooner or later we will make mistakes in life, but what really matters is what we do with the mistakes we make and how we learn from them. We regularly hear from customers today that ERM isn't perfect, but what matters is that we stand behind a mistake if we make it. Dad will be the first to admit that he made many mistakes through the years and there are things he would change if he could. That said, I believe (and think many would agree) that the company was truly blessed under his leadership and that he set an excellent example for us to follow.
We could write books with all the memories and "truckin' stories" over a 50 year period. We as a company have been privileged to work with a lot of good folks through the years. Many of the past and present coworkers have unique personalities and keep life interesting and enjoyable. I think ERM, Inc. always has been a fun atmosphere to work in and I hope it always will be!
Some other things that many people may not realize are some of the "firsts" that ERM, Inc. was a part of. Dad and my uncle Landis bought two of the first Peterbilts that were sold from the dealership in Lancaster in 1965. There weren't any other Peterbilts in the area at that time and when people heard that the "Martin Boys" were buying big Peterbilts, everyone said they'll never make it! Another area where Dad was somewhat of a pioneer was with spread axle dump trailers. In the 60's and '70's there were some spread axle flatbeds around, but a spread axle dump trailer was unheard of. Dad worked very hard to convince Ravens Trailer Manufacturing to build a spread axle trailer for him. The concept caught on and soon there were spread axle dump trailers all over the country.
I'm honored and privileged to be a part of this organization. I was very fortunate to grow up with a role model like my father. I'm grateful for his Leadership and also for the help he has given me over the years, especially in the last 11, as I assumed the Leadership role in the Company. As I reflect on the success of ERM, Inc. over a 50 year period, a couple things really stand out to me. I think there are two main reasons we've been successful.
#1: The good Lord has kept his hand of protection on us. The trucking industry is a dangerous business with many hazards. When you stop and think of the millions and millions of miles our equipment and drivers have traveled it is nothing short of a miracle how we've been protected. In 50 years we've experienced good times and lean times. Throughout all the tough times when we were confronted with big challenges we always made it through and could look back and see the Lord's protection and leading.
#2: We've been blessed with good people! Again, we're all far from perfect and make mistakes, but ERM, Inc. has been very fortunate to have a group of folks who care about their jobs and others. It makes all the difference when people take pride in what they do and are willing to go the extra mile to see that a job is done right! It also creates an enjoyable work environment.
I'm grateful for ERM, Inc. and all of those who make it a success! Our business is fast paced and no two days are the same. Many times the challenges and last minute changes with work can really get frustrating. I think it's also important to realize that with the challenges, etc. also comes rewards and the feeling of accomplishment of a job well done.
I want to give a sincere thanks to all of our employees for what they do each day! I also want to thank their spouses and families for their support as well! The company has seen a lot of changes through the years. With purchasing some new land and planning for a new facility there will be more changes, but I believe they are exciting changes that will benefit everyone. I look forward to many more years working together with you all!
~ JR